picker

>
it's all here (click art to learn more)
‹
›
Directions

>
2020 O Street, N.W., Washington, D.C. 20036
(in the middle of 20th & 21st Streets)
202-496-2020
Public Transportation
Conveniently located less than a block from embassy row and the Dupont Circle Metro Red Line - South Exit - we recommend you go green and use public transportation when you visit.
Take the Metro Red Line to Dupont Circle
Take the Dupont Circle/South exit
At the top of the escalator turn right and carefully cross 19th Street, NW
Walk between the two buildings in front of you and then carefully cross New Hampshire Avenue, NW
Walk left and you'll see signage for 20th & O Streets, NW
Carefully cross 20th Street and come on down O Street to 2020 on your left. Welcome
Did you know?
most of the rabbis in the greater washington area have been to the mansion.
If you require the use of an elevator:
Take the Metro Red Line to Dupont Circle
Take the north - Q st. exit
When you get to st. level turn left towards 20th st.
Turn left on 20th st.
Turn right on O st. - we are half a block down on the left
Today's event was spectacular! To bring such a diverse group to your space was so much fun for me. Some reminded me of country bumpkins who had never been to the big city before! Everyone was in awe and they were so impressed with the venue, the food, the desserts (oh my!) and the fun Ted provided with the history of the house and his insights into H's designs. We had an incredible time and will be back - as a group and individually for sure.

— Nancy Clark-Gonyea from Eastern Virginia Medical School
Parking
We recommend you take the metro or a ride share service. Valet parking is available for our overnight guests $48/car (plus applicable taxes).
On-street parking near The Mansion is limited. We recommend booking convenient and affordable parking in advance through SpotHero, the nation's leading parking reservation app. To reserve your parking spot use the widget below or visit The Mansion on O & O Street Museum Parking Page.
Driving
click on the map and type in your location for google directions.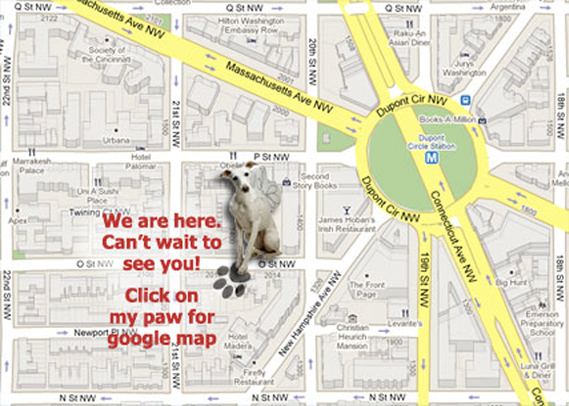 They were not kidding about secret doors, 2 is above average for sure! We got distracted by everything because of everyone and everything was awesome to look at! Worth it. Mere minimum of 45 minutes will go by fast!

— Ethan Young