picker

>
it's all here (click art to learn more)
‹
›
Directions

>
2020 O Street, N.W., Washington, D.C. 20036
(in the middle of 20th & 21st Streets)
202-496-2020
Public Transportation
Conveniently located less than a block from embassy row and the Dupont Circle Metro Red Line - South Exit - we recommend you go green and use public transportation when you visit.
Take the Metro Red Line to Dupont Circle
Take the Dupont Circle/South exit
At the top of the escalator turn right and carefully cross 19th Street, NW
Walk between the two buildings in front of you and then carefully cross New Hampshire Avenue, NW
Walk left and you'll see signage for 20th & O Streets, NW
Carefully cross 20th Street and come on down O Street to 2020 on your left. Welcome
Did you know?
we have curated rotating exhibits through our corporate art lease program at children.s hospital, the imf, the world bank, the us capital and the white house
If you require the use of an elevator:
Take the Metro Red Line to Dupont Circle
Take the north - Q st. exit
When you get to st. level turn left towards 20th st.
Turn left on 20th st.
Turn right on O st. - we are half a block down on the left
The staff was knowledgeable and very friendly. They also responded quickly and were flexible and kind when I had to make schedule changes. Wonderful experience!

— Johanna Heimberger
Parking
We recommend you take the metro or a ride share service. Valet parking is available for our overnight guests $48/car (plus applicable taxes).
On-street parking near The Mansion is limited. We recommend booking convenient and affordable parking in advance through SpotHero, the nation's leading parking reservation app. To reserve your parking spot use the widget below or visit The Mansion on O & O Street Museum Parking Page.
Driving
click on the map and type in your location for google directions.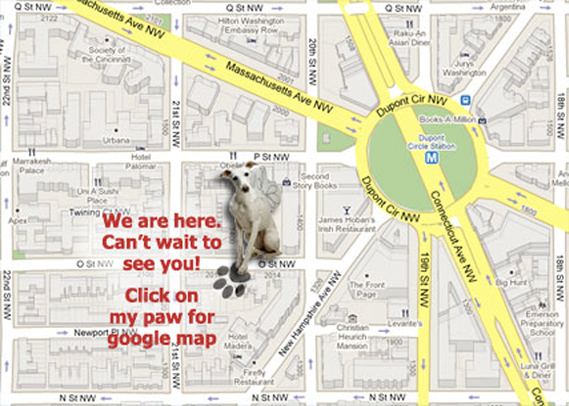 I took my two grandsons to both the Espionage Hunt and Magic show. Five stars for both. The grandsons are 8 and 11 and along with my wif, they and my daughter and her husband happily explored a magical world. Never knowing quite where you were or how to get back from whence you came! And..an amazing visual treat greeted you around each new corner and through each of the many hidden doors. It is an amazingly eclectic melange of art work, kitsch, and some really beautiful one of a kind items - and - they are all for sale...and reasonably priced. It has the largest selection of one of a kind guitars signed by some of the greatest artists of our times. But, as amazing as the tour was, the Magic Show with Rich Bloch totally made the day for all of us. We were even included in his act and had a fantastic time. His magic and slight of hand will amaze you, but his act left me in tears of laughter. Rich is a Master Showman and we look forward to seeing his act again. I hope they can schedule in some more showtimes!

— RUSSEL PETERSON from MY KITCHEN MAGICIAN INC.