picker

>
it's all here (click art to learn more)
‹
›
Directions

>
2020 O Street, N.W., Washington, D.C. 20036
(in the middle of 20th & 21st Streets)
202-496-2020
Public Transportation
Conveniently located less than a block from embassy row and the Dupont Circle Metro Red Line - South Exit - we recommend you go green and use public transportation when you visit.
Take the Metro Red Line to Dupont Circle
Take the Dupont Circle/South exit
At the top of the escalator turn right and carefully cross 19th Street, NW
Walk between the two buildings in front of you and then carefully cross New Hampshire Avenue, NW
Walk left and you'll see signage for 20th & O Streets, NW
Carefully cross 20th Street and come on down O Street to 2020 on your left. Welcome
Did you know?
The Mansion is home to over 60 signed Gibson guitars... can you find them all?
If you require the use of an elevator:
Take the Metro Red Line to Dupont Circle
Take the north - Q st. exit
When you get to st. level turn left towards 20th st.
Turn left on 20th st.
Turn right on O st. - we are half a block down on the left
This place is really super cool. What an off the beaten path kind of activity! My hubby and I had a lot of fun exploring this mansion. They started us off with a little video about the place, then set us loose on the 4th floor. We were allowed to wander to our heart€™s content. The place is filled with an amazing collection of stuff that's eclectic and fascinating to shuffle through. We started to forget to search for hidden compartments, as we were just too busy checking out the 70+ rooms, all decorated differently and some in really eccentric ways! Even if you don't care to step back in time, or wander through a living museum, getting lost and trying to figure your way through the maze-like warren of connecting rooms is fun. Seriously, the only way I can think to describe this place is part Winchester Mystery House (in CA), part antique store, part museum. It was probably our favorite activity on the trip we took to Washington. So eclectic, quirky & unusual, you won'€™t regret it. There'€™s nothing quite like it!

— Leilani Conger
Parking
We recommend you take the metro or a ride share service. Valet parking is available for our overnight guests $48/car (plus applicable taxes).
On-street parking near The Mansion is limited. We recommend booking convenient and affordable parking in advance through SpotHero, the nation's leading parking reservation app. To reserve your parking spot use the widget below or visit The Mansion on O & O Street Museum Parking Page.
Driving
click on the map and type in your location for google directions.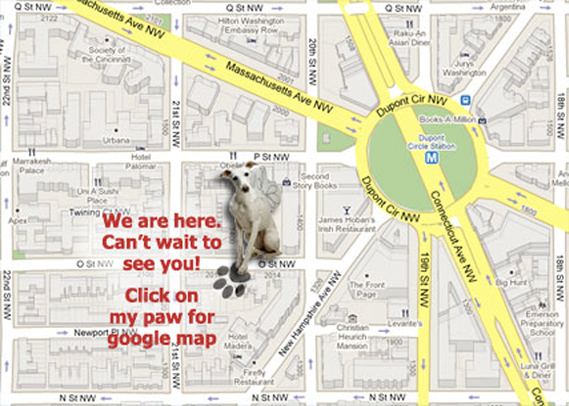 3rd time I've visited the Mansion, bringing different friends each time. This time was the best. Adding the video prior to exploring is great. It's difficult to explain all the nuances adequately, so the video is very helpful in doing that. Reubin our host was awesome. Another gentleman arriving later was awesome also. It's good to understand the concept of the hidden doors better, thanks to our hosts. We actually found more than originally thought when including stained glass & closets. We spent hours leisurely exploring the first 3 floors, took a champagne break, then finished the tour with the lower level. Great way to spend a few hours on a cold, winter Saturday. Visiting the Mansion never disappoints.

— Mary Sawyer